Forza Horizon 5 Series 8 Update
2022-05-27 22:38:13
作者:VK技师团队
Forza Horizon 5 Series 8 has arrived and with it comes a celebration of German Automotive Excellence! Starting today, May 26, you have four weeks through June 22 to get your hands on new German cars and cosmetics from the Festival Playlist.
Festival Playlist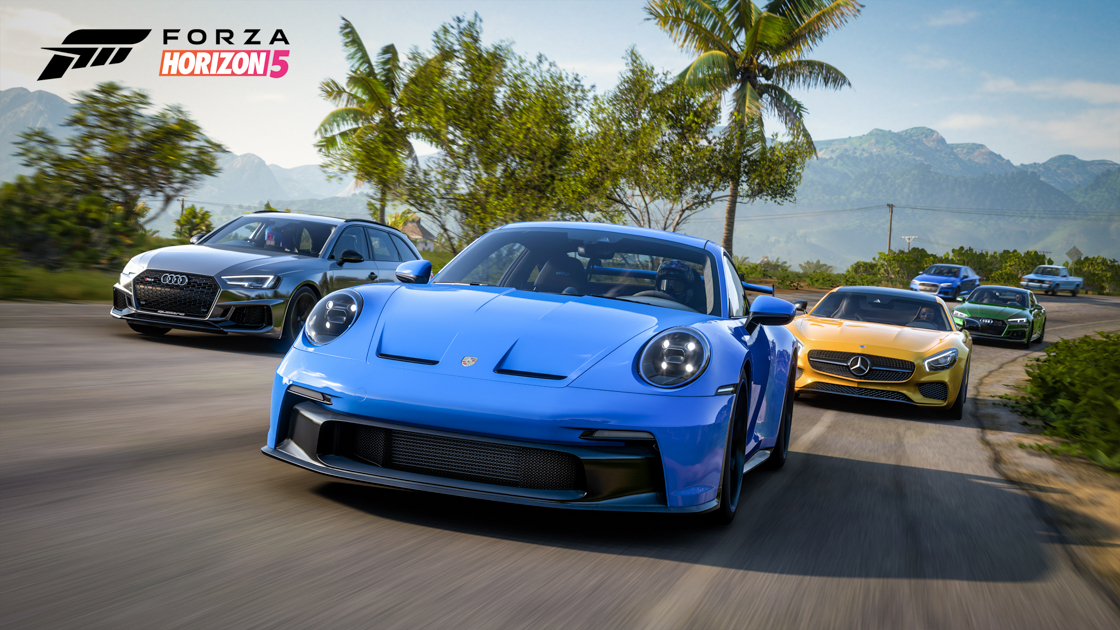 Show your appreciation for German automotive engineering with these new clothing unlocks:
• Germany Cap
• Germany Tee
• German Engineering Hoodie
• German Race Helmet
• German Race Gloves
Featuring a mix of new and returning cars, here are the rides you can look forward to driving in Forza Horizon 5 Series 8:
2021 Porsche 911 GT3
Earn 20 PTS during the Autumn "Storm" Season on the Series 8 Festival Playlist from June 2 – June 8.
Built to bleed pure racing technology into a production car more consistently than ever before, the new 911 GT3 is the seventh edition of Porsche's high-performance sports car, developed in close collaboration with the German automaker's in-house Motorsport division. Porsche took the double wishbone front axle layout and innovative aerodynamics from its successful GT race car, the 911 RSR and applied to its 2021 911 GT3 with a 503hp four-liter six-cylinder boxer engine and a drivetrain tried and tested in endurance racing. Faster than the previous 911 GT3 RS, this model can achieve near 200mph top speed and reaches 0-62 in just 3.4 seconds. It also lapped the Nürburgring-Nordschleife, considered the most challenging racecourse in the world and the manufacturer home of driving performance tests, in just 6:59.927 minutes – more than 17 seconds quicker than its predecessor. The Swan neck design rear wing creates enough downforce to keep you on the edge of your seat in every curve.
2015 Mercedes-AMG GT S
Earn 20 PTS during the Winter "Dry" Season on the Series 8 Festival Playlist from June 9 – June 15.
When you first think of Mercedes-Benz, you may be drawn to the lavish luxury the brand is renowned for. But with the company's recent dominance in Formula One, it's clear Mercedes can do performance too. But what about both? Mercedes' AMG GT S balances the two disciplines, with equal doses of F1-like speed and luxury. Under the AMG GT S's sleek hood sits a 4.0-liter twin-turbo V8 producing more than 500 horsepower. That's enough boosted motor to pull competitive laps at any racetrack and hit 193mph flat out, complimented by a leather-lined interior befit for autobahn blasts. Bordering on supercar, but still competing with other top models from Germany, the AMG GT S is exactly what you'd expect from Mercedes: the pinnacle of performance and luxury. Be ready to get the most out of this sophisticated German engineered machine.
2018 Audi RS 4 Avant
Earn 20 PTS during the Spring "Hot" Season on the Series 8 Festival Playlist from June 16 – June 22.
Did you know the RS initials stand for "racing sport?" It's used here to acknowledge that this is Audi's most premium outing based on their A4 platform. That means the highest trim level, the fastest speeds and the most-sports-focused car they offer. Unveiled at the 2017 Frankfurt Motor Show, the B9 RS 4 Avant is powered by a 2.9 TFSI V6 twin-turbo engine producing 450hp and 443 lb-ft of torque. While this is the same power output as the previous B8 model, the extra torque delivered from its smaller displacement engine results in better fuel efficiency and faster acceleration. So, while the previous model achieved 0-60mph in 4.7 seconds, this one does it in just 4.1 seconds. What's more, the B9 replaces the 7-speed dual-clutch S-Tronic transmission with an 8-speed 'Tiptronic' automatic transmission. As always, you'll find the quattro all-wheel-drive system, because after all, the RS 4 series is renowned for pioneering some of Audi's most innovative technology. People say Audi took the decision to make the RS 4 a beast, coming from the Audi 90 quattro IMSA GTO. Are you ready to hear the symphony of that glorious atmospheric V6?
Car Pass CalendarFour new cars are coming to the Forza Horizon 5 Car Pass garage in Series 8. Not only are they all #NewToForza, but they also showcase the absolute best of German Automotive Excellence.
2020 BMW M8 Competition Coupe
Available May 26 in the Forza Horizon 5 Car Pass.
The ultimate BMW car engineered for the driving enthusiast. Consider its 0-62mph acceleration speeds of just 3.2 seconds made possible by a high-revving 625 horsepower M TwinPower Turbo V8 engine. It's monstrous in every conceivable way – an exceptional combination of dynamic flair, agility and precision. BMW achieved this by developing the car alongside its BMW M8 GTE endurance racer, fine tuning it at its Miramas and Arjeplog test centers while pushing its capabilities to the limit on the Nürburgring-Nordschleife and other racing circuits. Its top speed is 155mph, though this can be raised to 190mph thanks to BMW's optional M Driver's package adding tires rated for high speed to the car. With a peak torque of 553 lb-ft at 5,800 rpm, sophisticated cooling systems and innovative aerodynamics, the BMW M8 Competition Coupe is a car made for those who dare to go the extra mile.
2020 Audi RS 3 Sedan
Available June 2 in the Forza Horizon 5 Car Pass.
Who knew incredible performance could be achieved in such a well refined package? With a 400-horsepower inline five-cylinder engine under the hood producing 368.8 lb-ft of torque, the latest Audi RS 3 Sedan is fast and sublime. Not only does it feature a distinctive iconic sound, but the car is capable of 0-62mph speeds in just 3.8 seconds with a top speed of 155mph. It is also the first ever Audi to include the RS torque splitter for greater dynamics and stability, variably distributing the car's torque between the rear of the wheels. The German automaker has also given its RS 3 Sedan is a new sportier look with a widened body and a motorsport inspired exhaust system and cockpit display.
2018 Audi RS 5 Coupé
Available June 9 in the Forza Horizon 5 Car Pass.
If you're looking for a smooth, enjoyable and refined driving experience then look no further. Audi strikes gold with its 2018 RS 5 Coupé. Featuring a twin-turbocharged V6 producing 450 horsepower, 442.5 lb-ft of torque and a top speed of 174mph, you'll certainly be going places. With high-precision RS sport suspension, the overall support and stability of the car is reinforced to reduce pitch and roll, while improving the overall handling of the vehicle. What's more, the quattro drivetrain provides additional traction, dynamism and stability, as well as sport differential at the rear axle to actively distribute toque between the wheels. With sharp, precise looks and 0-62mph acceleration speeds in just 3.9 seconds, there's never a reason to show up late while behind the wheel of this RS 5 Coupé.
1982 Volkswagen Pickup LX
Available June 16 in the Forza Horizon 5 Car Pass.
Cast your mind back to the 1980s – an era of glitz and glamour and a staple for the automotive world. Cars from this timeline remain iconic to this day and there's no greater throwback to a bygone decade than this Volkswagen Pickup LX, also named the Rabbit Pickup, the Caddy and the Golf Mk1 Caddy. That's a lot of alternative titles, but it's fitting for a vehicle with so many distinct options to choose from. While the "LX" variants sport unique trim levels, the VW Pickup offered a wide choice of various petrol and diesel engines depending on whether you were buying it in North America or Europe, and because the numbers naturally differ based on your spec, there are no consistent performance metrics. Luckily for you, Forza Horizon 5 has all the options you need to customize this compact pick-up truck to your liking, so you can make it as fast or economical as you please. The 1.7-liter engine was built for high fuel economy. It had a gear labeled E, for Economy.
Car Pass VehiclesNew cars will continue to become available for Car Pass holders every week through July 7. From that date, the Forza Horizon 5 Car Pass garage will be complete, and players will be able to redeem the full 42-car collection from the Car Pass menu at any Horizon Festival Outpost or Player House.
The Forza Horizon 5 Car Pass can be purchased separately, and is included in the Deluxe Edition, Premium Edition and Premium Add-ons Bundle. Here's where you can find the full list of Forza Horizon 5 Car Pass vehicles announced and released to date.
All players can continue to unlock new cars in Forza Horizon 5 through the weekly Festival Playlist. As always, we'll share details about those reward opportunities in our monthly Series Update blogs.
What's NextForza Horizon 5 Series 9 brings new cars, events and challenges. Stay tuned for more details on the Horizon Academy coming next month.